Are You Ready for A Debit Card?
Are You Ready for A Debit Card?

You're getting older and, as a result, you're becoming more responsible. You've even got a steady income from babysitting or doing yard work.
Now that you are earning your own money, you might be interested in a debit card. Paying with plastic gives you freedom and allows you to leave your change at home.
The best way to show your parents that you're ready is to learn how debit cards work.
A debit card works like a check because it uses money from your checking/share draft account. Having a debit card is not like having unlimited money. You need money in your checking account in order to pay for something with a debit card.
For example, say you want to use your debit card to buy an iPad for $499. You must have at least $499 in your checking account to cover the purchase. When you swipe your card, the $499 automatically leaves your account.
There are many good reasons for getting a debit card.
Debit cards:
o Are accepted almost everywhere
o Are fast
o Allow you to carry less cash
o Work as a cash card at an ATM (automated teller machine)
o Draw cash out of your checking account
Sometimes people lose track of the money they have in their account and they try to spend more than they have. When this happens, two things can occur:
o Your card can be declined
o The transaction goes through, and you get charged an overdraft fee.
Having a card declined is embarrassing enough, but the real problem is when you are charged for an overdraft. Overdraft fees can stack up really fast, and you might not even realize it until it's too late. That's why it's important to know how much is in your account at all times. It's smart to always leave a cash cushion in the account so this doesn't happen to you.
Luckily, we have online banking to help you keep track of your balances. Ask about getting a debit card today.
Q & A: Debit Cards Can Save You From the Debt Trap

Question:
I've seen booths around my college campus offering free items if I sign up for a credit card. I wouldn't mind having plastic to carry instead of cash. Is this a good idea?
Answer:
To many college students, getting a free T-shirt and a line of credit seems like a great deal. But before you sign up, consider this: On average, college seniors carry more than $2,600 in credit card debt.
What's more, once you're in debt, it's hard to dig out. And outstanding credit card debt can limit your chances of getting a loan later in life--so you might find it hard to buy a house or a new car.
If you want to avoid the debt trap, consider getting a debit card instead of a credit card.
Debit cards offer the convenience of credit cards with one important difference: The money comes directly from your checking account so you can't spend more than you're able to pay. Debit cards also function as ATM (automated teller machine) cards, so you can get cash when you need it.
Debit cards can help you avoid falling into debt. Contact us to find out more.
Utica Gas & Electric FCU strives to be as convenient for our members as possible.
We have partnered with Allpoint Network to give you 55,000 surcharge-free ATMs worldwide. These ATMs are already closer than you think, in businesses like Target, Hess, Sunoco and Tops. Just look for this sign on participating ATMs.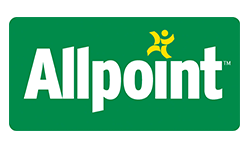 Another exciting enhancement is real-time processing of your debit card transactions. This means that when you use your debit card the money will come out of your account right away. Additionally, when you make a deposit to your share draft/checking account, the money will be available on your debit card right away.
Your debit card will also provide surcharge-free ATM access at ShareNet locations and checking account access for purchases anywhere VISA is accepted.
Take a minute to find a new surcharge free ATM close to you.